Eden Prairie Towing Company
Eden Prairie Towing Company – Towing Services – Eden Prairie, MN
Eden Prairie Towing Company has been a trusted name in the towing business for many years, providing friendly, reliable, and quality service throughout the area. We understand how important it is for vehicles to be transported safely and act quickly, so we strive to reach their destination as soon as possible. We always remain up-to-date with the latest technological advances to ensure the highest level of safety when transporting precious cargo across town or state lines. With our roadside assistance services, whether you've experienced a flat tire or have run out of gas, you can count on our knowledgeable and experienced tow truck operators to assist you without delay. Our priority is ensuring you get where you need to be safe and sound in no time. Call us today at (952) 209-7707 for free quotes!

About Eden Prairie Towing Company
Eden Prairie Towing Company is the best towing service in Eden Prairie. We're located just 12 miles from the Twin Cities. If you need towing services, choose us as your go-to solution. Our team has been helping our community for years and is more experienced than any other towing service in the area. Plus, all of our drivers who provide tow truck or wrecker assistance are fully certified and insured with expertise that's second to none – so you can be sure that when we take care of your vehicle, it will reach its destination safely and swiftly. We're proud to be Eden Prairie's top choice for reliable equipment transportation solutions – contact us today. We also offer roadside assistance services such as tire changes, jump-starts, fuel delivery, lockout, etc.
Need a tow in Eden Prairie? Don't hesitate to call Eden Prairie Towing Company at (952) 209-7707. We promise quick, responsive service that will get you back on the road safely and efficiently.
Eden Prairie Towing  Company Services
Affordable Towing
We understand how taxing a car accident can be, so why add the worry of paying outrageous fees for towing services? We offer reasonable rates and honest prices to provide the best service possible. We even offer special discounts for military members, seniors, and students – simply call us if you're on a budget. Our team provides 24/7 roadside assistance with solutions that fit your needs AND wallet, no matter the time or location. Allow us to help alleviate some stress today by giving us a call now at (952) 209-7707.
Wrecker Service
At our wrecker service, we understand how valuable your car is to you and will do everything in our power to ensure it's handled with care. Regardless of the size or weight of any vehicle, rest assured that we can tow it efficiently and safely. As if this weren't enough already, we even go one step further by cleaning up the area surrounding the accident — from broken glass pieces to fallen parts from your car. This way, you don't have to stress about tidying up after an unfortunate event; not only will we get your car off-site quickly, but we will leave behind no trace.
Lockouts
Never stress out when you're locked out of your car in Eden Prairie again! Simply shout the experts at Eden Prairie Towing Company, and we'll be there as fast as possible. No matter what type of vehicle – truck, SUV, RV, or otherwise – our professionals are skilled in unlocking cars with no damage done whatsoever. So don't delay another second if your keys have gone missing; call us now for an effortless solution.
If we can't get into your ride, we'll tow it to a dealer for you or wherever else you might keep a spare fob. Dial (952) 209-7707 today!
Jumpstarts
Don't let a dead battery take away from your day! Our jump start service is here to help you avoid the hassle of a drained car. Car batteries typically last five years or more; however, they can die instantly when least expected. Ensure you're always prepared using our reliable and fast jump start service, so you don't have to worry about anything else for the rest of your day. One of our guys will be at your location in minutes to give your battery a kick in the pants–then we'll check the charging system and the battery's health to nip repeat issues in the bud.
Heavy-Duty Towing
Do you need assistance towing buses, semi-trucks, or other large vehicles? Worry no further! Our team of experienced professionals has the capacity and strength with their powerful trucks to manage even the most demanding tasks. We can safely transport your vehicle over long distances in record time – whether near or far. With countless years of knowledge and expertise in heavy-duty towing, you can have faith that we will take great care of your valued vehicle.
Fuel Delivery
No need to worry if you find yourself out of gas! Eden Prairie Towing Company has a lightning-fast fuel delivery service for you. We provide petrol and diesel, so whatever vehicle type you have won't pose an issue. Just sit back while our team works its magic – they'll surely get your car up and running again without long delays. The fuel will arrive right on your doorstep in no time, allowing you to keep moving toward your destination.
Trust us with all your auto needs in Eden Prairie, Alabama. You can count on our friendly and experienced staff to do the job right, regardless of your need. Call us today at (952) 209-7707, and let's get started.
Motorcycle Towing
With decades of experience in towing motorcycles, our team has the knowledge and expertise needed to transport your bike from one place to another. Additionally, we can tow any three or four-wheelers you may have – ATVs, scooters, and so much more! Our highly trained staff knows how to handle each job safely and accurately.
Rest easy knowing your motorcycle is in good hands when you call our tow truck service. We're careful with all the vehicles we transport and will get your bike to its destination without damage. So don't wait another minute–call us today at (952) 209-7707.
Emergency EV Charging
Displaying your state-of-the-art electric vehicle to family and friends can be an exciting experience – until the battery runs out. Suddenly, you're stuck on a hill as other cars pass by, releasing fumes from their exhaust pipes while drivers relish big plastic water bottles. Don't worry; if you've contacted Eden Prairie Towing Company in advance, help is soon coming.
When you need a quick charge for your electric vehicle, Eden Prairie Towing Company is here to help at lightning speed. We'll have you back on the road in no time so that you can continue being an environmental champion. Moreover, if necessary, our tow trucks are always available and ready to take the car and driver home safely without breaking the bank. Our knowledgeable team knows about auto emergencies and will assist quickly with your needs.
Emergency Repairs
Do you have a car in need of repair? Don't worry – our certified mechanics are here to help! With their expertise, your vehicle will be running again quickly. Simply call us, and one of our professionals can easily assess the issue and get you back on the road.
When caring for your car, no job is too small for us. Our services cover all the basics, from oil changes and brake repairs to new batteries. Plus, we offer discounted prices when you need regular maintenance done on your vehicle. Our experienced technicians can work with any type of car–from hybrids to large trucks– so you can trust that your automobile will be in good hands here. We also promise fast turnarounds so that you're back on the road sooner rather than later. To learn more about our discount rates, call us today.
Tire Change
Trust our team to get your flat tire back up and running when you're in a pinch. From quick changes to deft patches, we have the skills necessary for swift service so you can be on your way without delay. We understand how inconvenient this type of situation is, so rest assured that when it comes to flat tires – count on us.
Moreover, we provide comprehensive roadside assistance services that include tire changes, tows, and jump-starts. Think of us as your go-to option the next time you find yourself stuck on a road trip – simply give us a call at (952) 209-7707 and leave it in our capable hands.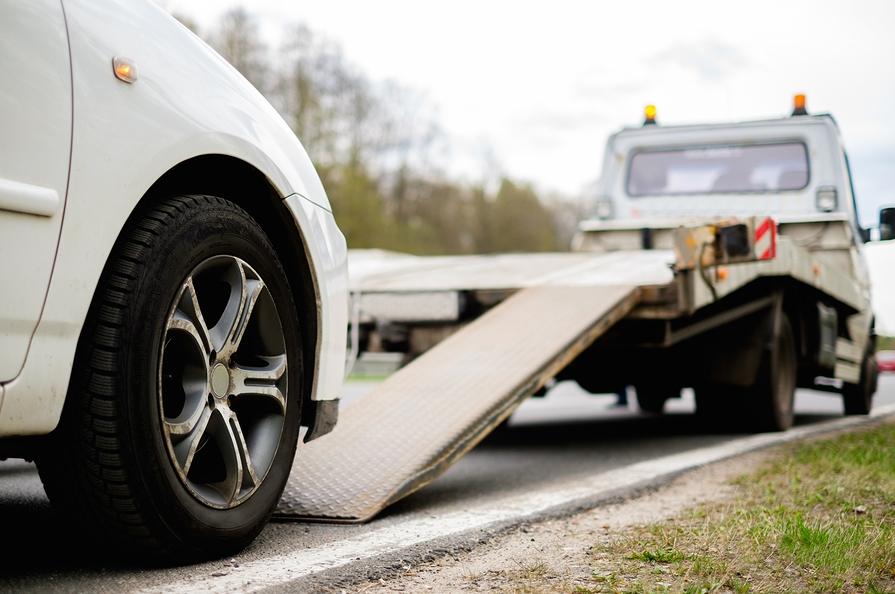 Areas We Service
Eden Prairie Towing Company casts its net over places in the Hennepin County area. Places like:
Minneapolis/St. Paul

Hopkins

Edina

Chaska

Savage

Bloomington
And many more. Eden Prairie Towing Company provides comprehensive towing services all across Hennepin County. Our friendly and experienced staff is here to help, so don't hesitate to call us today at (952) 209-7707.
Contact Us Today!
So that's the deal–Eden Prairie Towing Company is here to help if you ever need a tow, tire change, jump start, repair, or lockout service in Eden Prairie and its surrounding areas. Our rates are affordable, and our services are top-notch every time. So go ahead ー call us at (952) 209-7707.